Low cost no-prep indoor play ideas for young children
Getting outside with children is great for their development as well as for overall family well-being. But there are times when it just can't be done. So, before you start tearing your hair out and streaming Frozen 24-hours a day, here is a handy list of low cost and no-prep indoor play ideas to keep young children entertained when you can't get outside.
But, before you start, I want you to hide some toys away. I know that sounds bonkers but bear with me. Children love novelty. That's why they get bored even when there is a house full of toys. So, gather up at least half their toys into boxes and put them away where they can't be seen. This is really important if you might be in for a long haul of indoor life. Every few days, collect up more toys and swap them with some of the hidden ones. If your kids haven't seen them for a while, their toys will seem much more interesting.
And, rather than focusing on ready-made toys and games, think about re-purposing instead. There is no need to rush to order lots of new games or sign up to every educational website on the planet. Our homes are full of exciting things to play with that aren't toys. All it takes is a bit of imagination. Children absolutely love getting their hands on adults' things – especially if these are usually forbidden. (My two fondest memories as a child were being allowed to look through my mother's jewellery box and playing with my Grandma's enormous tin of buttons!)
These fun indoor play ideas require no preparation and use things you already have in your home. And, they will keep your little ones entertained!
Raid the kitchen cupboards
A wooden spoon may not seem like fun to you but to a young child real life utensils are objects of mystery. A couple of pots and pans and some safe utensils can keep a young child entertained for ages. Add dried pasta or Lego bricks as pretend food for stirring.
Build an indoor den
All you need is a blanket or two plus some chairs and cushions to create a snuggly indoor den. The perfect setting for imaginative play.
Construct an obstacle course
Why not create your own mini obstacle course? You'll need some furniture, cushions and blankets for up/over/under challenges. Then be creative and add balls, and empty plastic pots or cups for some extra skill tests.
Have an indoor picnic
If you can't get outside, why not roll out the picnic blanket inside and make lunch a bit more fun? Young children can help with food preparation too. They might be slightly messy sandwiches, but your kids will enjoy helping to make them!
Throw a teddy bears' party
Throw a birthday party for a favourite teddy. You can make decorations, wrap up presents in scrap paper and play pass-the-parcel.
Play party games
How about a quick game of Simon Says or Musical Statues? It doesn't have to be a party to play a party game.
Dance
While you've got the music out, how about a jiggle? Dancing is a great way to burn off energy indoors. The kids could choreograph a dance routine to a whole song. Or just let go and boogie all together to your favourite tunes. Set an alarm at a random time once a day for a family dance off.
Raid the wardrobe
Dressing up is much more fun when it involves real clothes and accessories. Find some shirts, belts, scarves, hats and bags that you aren't keeping for best and let the pretend play commence!
Get theatrical
Why not put on a play? Older children can turn their dressing up games into a performance for the rest of the family.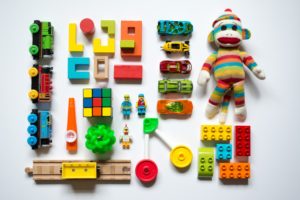 Make sock puppets
For a quicker theatrical fix, put on a puppet show. All you need are socks. You can decorate them if you want to, or just give them characters through voices.
Try some sewing
Why not make a cuddly toy together with your little one? Find an old piece of clothing and cut out two identical shapes. Sew them together and stuff with strips of the remaining fabric. If you make holes, even little children can push thread through in needle-free sewing.
Make home-made pizzas
The great thing about pizzas is you can make them with whatever bread base you have available. You can use pitta, baguette, bread rolls, naan bread or just sliced bread lightly toasted. Spread some passatta and sprinkle on toppings and stick under the grill. Let the kids get stuck in and make their own.
Blow up a balloon
There is so much fun to be had with balloons! Play keepy-uppy to burn off energy.
Do some washing up
Washing up may be a chore to you but to a young child it's indoor water play. (No sharps, and be prepared for the water to end up outside the bowl!). Given the chance, young children can be surprisingly engaged in real world grown up housework like tidying up, cooking and cleaning.
Blow bubbles
If you haven't got a spare bottle of blowing bubbles handy, use washing up liquid or bubble bath with a little water and your hands.
Blanket riding
Got wooden floors or tiles? Grab a blanket, sit a child on it and pull! Go slow at first until they learn to stay upright…
Pasta arts and crafts
Mix up your art and crafts by using dried pasta tubes to make necklaces or sticking pasta shapes together to construct a mini house.
Junk modelling
Raid the recycling for cardboard boxes and tubes, plastic bottles and cartons. Then add glue and string. (Robots are particularly good to make from recycling scraps!).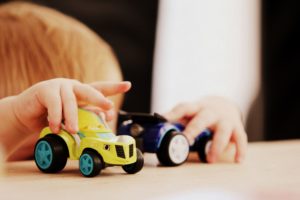 Yoga session
This one is good for you and the kids! a 30-minute yoga session of simple moves to some relaxing music to stretch out the muscles.
Play word games
I-Spy, Animal Alphabet, "I went to the shops and I bought" – the possibilities are endless. If you don't know any word games, or are bored of the ones you know, just google some new ones!
Treasure hunt
Hide a surprise somewhere in the house and give your child increasingly easier clues on where to find it.
A pack of playing cards
You can play simple card games (see this amazing list of card games that even 3-year-olds can play!). Or just let the kids play with the cards. They can order them, match them, arrange them, build with them, throw them (my youngest son loved building a card castle and then flicking cards at it to knock it over), do tricks with them, shuffle them, fan them, balance them on their heads, or make up stories about the kings and queens. There's not much you can't do with a pack of cards and some imagination.
Indoor camping
If you've got a pop up or two-man tent and a little bit of space you could set up camp for the night. Add torches and hot chocolate for authenticity.
Download some printables
Need a quietening down activity? There are lots of sites like Activity Village where you can print off colouring sheets and Join the Dots and simple paper craft indoor play ideas.
Let them get bored
I could give you a list of 100 more indoor play ideas and your children would still get bored sometimes. That's ok. Don't feel like you have to fill every moment. Boredom is good for children. It is the lull before the imaginative spark that starts them off on a new play adventure. Just say no to the iPad and put some odd things in front of them and see what happens.
Already tried all these indoor play ideas? Check out these Books of play ideas for busy parents and these 101 ideas for supporting your child's development for lots more ideas to keep your children entertained. Or get outside, no matter what the weather, with these 12 ideas for outdoor play when it's cold or wet.