20 ideas to boost children's reading skills
There's no doubt that if you want to boost children's reading skills the best thing you can do is to encourage them to read. Lots and lots.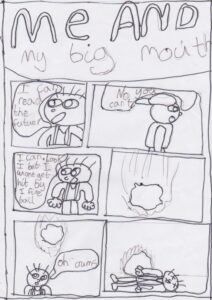 But not all children are quick to discover a love of books and many children (especially boys) go through periods when reading books just doesn't float their boat.
When pushing your child to read books is more painful than pulling teeth, it's time to find some new ideas to engage them in reading! Books are not the only way to boost children's reading skills and inspire them with a love of words and stories.
Here's 20 ways parents can help boost children's reading skills that don't involve them actually reading books:
1. Comics, magazines and newspapers
Reading material doesn't have to come in book form. Good quality comics contain great stories in accessible formats. Children often find comics and magazines less intimidating and more enticing than books. Does your child like football? What about the sports pages in the newspaper? Are they passionate about cars? What about a car magazine? You don't have to spend a fortune – monthly magazines can often be found in libraries, or why not swap comics with other families when you've finished with them?
2. Word searches
Word searches encourage word recognition, support spelling and can also introduce new vocabulary. There are lots of free printable word searches for children online (try Activity Village or Puzzle Club or Kids Puzzles and Games). Many of them are graded for different ability levels or themed for special occasions like Christmas or Easter.
3. Board games
There are some classic board games such as Scrabble and Boggle which are all about words. But many strategy-based board games involve an element of reading. To boost children's reading without them even noticing, think Monopoly or Totopoly for primary-aged children or Talisman for tweens and teens.
4. Riddles, jokes and brain teasers
Does your child like to make people laugh? What about memorising riddles, jokes or brain teasers? There are lots of free printable kids jokes online to be read and memorised!
5. Listen to an audio story
If you want to inspire your child with a love of words and stories, then listening to an audio book might be the way to do it. Often read superbly by fabulous actors or actresses, audio books may not actually involve reading but they can help boost children's reading skills through exposure to new words, good writing, exciting story lines and interesting characters.
6. Product reviews
Has your child got some pocket money or birthday money to spend? Are you thinking of investing in a new car, camera, laptop or TV? Many tweens and teens love reading product reviews – especially when there is a real decision to be made about which product to buy. Encourage them to read up on gadgets, toys and bikes before deciding which one is best. It will also teach them to be financially savvy!
7. Make a comic strip
Constructing stories is a great way for children to learn about stories and characters. They might not want to write a story, but planning and drawing a short comic strip involves a similar process. Younger children can cut out pictures, choose an order and add simple speech bubbles. For children who don't enjoy drawing, there are lots of websites that enable them to make a comic strip online (try Toondoo).
8. Word games
No preparation required and great for filling bored moments! Classics such as I Spy, the Alphabet Game, "I went to the Shops and I bought", the Yes/No game and Storylines are all brilliant for learning phonics, words, spelling and sentence structure. Type 'word games for car journeys' into Google and you'll find lots of new ones too!
9. Cooking from a recipe
I love reading cookery books. There are some great cookery books using simple language for younger children, and older ones will enjoy leafing through whatever you have on your kitchen shelf. Why not let them look through and choose what they'd like to make, then make the shopping list of ingredients? Most children require an element of supervision when cooking or baking, but remember to step back, let them read and follow the recipe for themselves and only help when they need it. (Can also be combined with idea No. 18: Supermarket Shopping!)
10. Secret codes
There is something about writing and cracking coded messages that children love! They can make up their own code, or you can download code buster activities to get them going (see Activity Village or Grandparents.com). Remember to join in and write messages to them too!
11. Research projects
Boys especially like there to be a practical application to what they read. Set them a research project (constructing a wormery, building a tree house, making a bird box, digging a pond) and they often end up reading extensively as part of the research and planning. Choose something that really lights their fire and be prepared with some interesting websites and reading materials (so they don't just turn to YouTube!).
12. Famous speeches
For tweens and teens who are interested in history or current affairs, famous speeches can be fascinating texts. Even if they choose to watch them online rather than reading them, encountering famous speeches can boost children's reading by introducing them to different patterns of speech and to persuasive language and emphasis through literary techniques such as repetition and alliteration. Martin Luther King's "I have a dream" speech is a great place to start!
13. Treasure hunts
You can do DIY treasure hunts at home, or many museums have treasure hunts as part of their children's activities in the school holidays. Make sure there is a suitable prize or incentive at the end and they won't even realise they are reading all those clues!
14. Design a crossword
Children can design their own template or you'll find lots of blank crosswords online. They'll need to choose the words, spell them correctly and write the clues. Make lots of copies so they can test out their crossword on different people!
15. Educational websites
I do think there is a place for online learning tools, as long as this is balanced by lots of other activities. Choose reputable sites (such as BBC Bitesize or Primary Games) or ask your child's teacher for a recommendation.
16. Graphic novels
I know these are actually books, but graphic novels often manage to engage reluctant readers who don't find a whole page of words appealing. Not only do graphic novels boost children's reading, they often provide a bridge to a love of reading which inspires children to move on to text-only books. Try to look for graphic novels that are specifically aimed at children or teenagers – mainstream graphic novels (eg Marvel) can contain very adult themes so vet these carefully. Many popular children's books (such as the Alex Rider and Percy Jackson series) are now also available in graphic novel format.
17. Poems and limericks
Memorising poems is great for children's brains. Maybe don't head straight for Wordsworth – try funny poems and rhymes or scary ones that they can really put some gusto into performing! You could get them to video themselves too!
18. Supermarket shopping
Lists, labels, ingredients, aisle signs, special offers – the opportunities for reading in a supermarket are almost endless!
19. Go to the theatre
As well as learning about stories and characters and dialogue, going to the theatre provides other incidental reading opportunities such as reading the programme and following signs which all help boost children's reading skills without them noticing. Can be turned into a research project (see No. 11) if you get the kids involved in choosing the play and planning the travel!
20. Make sure you read too!
There is lots of evidence that shows that when children see their parents reading books, they are much more likely to read books too. Let your kids see you reading a wide range of materials. And don't forget to read to them – even older children can enjoy a snuggle with their parents and a book. As they get older, choose more challenging books and read them in instalments (I recommend Watership Down as a great read aloud book!).
Do you have experience with a reluctant reader? What tips would you share?