Top 10 books for teaching children about sex
Talking to children about bodies and bits and how they fit together isn't always easy. The earlier you start and the more relaxed you are about it, the easier it will be (see Talking to children about sex, bodies and relationships). The hardest bit is getting started. Luckily, there are some great books for teaching children about sex, bodies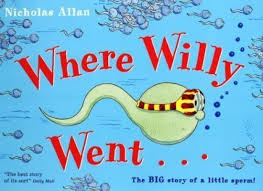 and families, which can make launching into those conversations much easier. There's no need to buy them – your local library will have lots of books for teaching children about sex (and that way you can check them out and find exactly the right one for your family).
To help you along, here's my top ten list of the best books for teaching children about sex, puberty and relationships (and other things we don't like talking about).

My personal favourite – it's a jolly good story that just happens to be about a sperm….

Great artwork, featuring a girl, her teddy bear and Mr and Mrs Hormone.

Gentle and simple, perfect for preparing young children for a new brother or sister. (Check out these other ideas for books for preparing a toddler for a new baby too!).
The Let's Talk series has a range of books for teaching children about sex, puberty, and families. They are factual and quite detailed and cover those topics that you might be a little scared of broaching. Ideal for starting conversations or for leaving in your child's bedroom for him/her to pick up when interested.

A great book for turning the tables on parental embarrassment – no nonsense, straightforward and dispels silly myths people invent to avoid saying exactly where babies do come from…..

A great read with fab pictures that just happens to feature a prince who marries another prince rather than a princess.

A celebration of families and all the different shapes, sizes and forms that families can take.

All about girls' bodies and puberty. Detailed, but written in a sympathetic way that tackles lots of common fears and worries. Perfect for preparing girls for puberty or for girls who have started puberty early. Versions for older girls (What's Happening to My Body? Book for Girls: Revised Edition
)
and for boys (The "What's Happening to My Body?" Book for Boys
)
also available.

All the key facts of how babies are made, in simple language alongside child-friendly illustrations.

Not so much about sex and as about diversity in general. A great book for introducing young children to the idea that people (and bodies) come in all shapes, sizes and preferences, and that's great!
Have you tried any of these books for teaching children about sex? How did it go? Or have I missed out your favourite? What tips would you share about talking to children about bodies and bits? Please do let us know – and check out this resource list for more advice on talking to children about tricky issues!
This is not a sponsored post – these are all books that I personally recommend! It does however contain affiliate links, which means that if you click through from this post to Amazon and buy one of the books I will receive a small fee. See Disclosure Notice for more info.