How to have fun family time with a teenager
One of my teenagers is a bit of a grump at the moment. Put it down to hormones or identity struggles, whatever the cause the result isn't always pleasant. After dragging him to a barbecue this summer and being rewarded with appalling rudeness (in the presence of my Dad, even worse!), I came to the conclusion that spending family time with a teenager was a doomed project. But after a trip to the Victoria & Albert Museum less than a week later, I changed my mind. Having fun family time with a teenager is possible, but there is definitely a Right Way and a Wrong Way to go about it.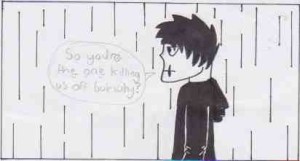 The Wrong Way to do family time with a teenager
The barbecue from hell should, on the face of things, have been a simple stress-free affair. A sports club end-of-season barbecue: sausages, fizzy drinks (the ultimate forbidden fruit!), lots of boys of a similar ages with plenty of space to run around in – what's not to like?
Except it wasn't his sport's club, it was his brother's. And he really really didn't want to go.
In hindsight, I realise I should have negotiated a compromise (maybe he could have come for half an hour?) or just left him at home. But my Dad was visiting and I had it fixed in my head that we were going to have a Fun Family Night Out. I made the classic parenting mistake of digging in my heels and told the grumpy teen that he was coming whether he liked it or not.
The result, as you might guess, wasn't the idyllic family time I had in mind. The teen set out (with admirable single-mindedness) to sabotage the entire evening by sitting right next to me with his head laid flat on the table ignoring everyone who spoke to him in a determined silent protest that would have made me proud if only it had been a political demonstration against social injustice rather than a tactic to humiliate his mother. My Dad was shocked, I was mortified and everyone was thoroughly embarrassed. Feat accomplished, point made. (If only he could apply himself so whole-heartedly to maths….).
The Right Way to do family time with a teenager
I have no idea what possessed me to conclude that the antidote to the barbecue from hell was to take the grumpy teen on a museum visit just a week later. To be honest, I was just desperate to get him out of the house and a trip to the Victoria & Albert Museum was the only suggestion I made that he didn't reject.
We chose a day, agreed the time that we'd leave (not too early for him but not too late for me) and which train we would catch. The ceiling in the V&A cafe is breathtaking – worth a trip to London all by itself – and I really wanted to share it with him. But the teen wanted to take sandwiches for lunch in case there was a queue. I agreed (he tends to be more grumpy if he doesn't eat….) but on condition that we at least pop into the cafe to see the ceiling.
The day came, we trundled up to town, and we had a great time. There was no moaning, no feet-dragging, he was pleasant company and nobody cried or shouted…. We didn't linger too long. I let him decide which sections we should visit (I discovered my teen has a passion for sixties furniture, who knew!) with the proviso that we also pop round the fashion section as that's my favourite. We discussed the arts and crafts movement, marvelled at replica frescoes, had a picnic in the courtyard and stumbled upon a few surprises when we got lost. We enjoyed ourselves!
Family time with a teenager: Essential Checklist!
Now, given the choice between a trip to a highbrow museum and a sports club barbecue, my money would definitely have been on the barbecue as the most likely winner for fun family time with a teenager.
Which got me thinking. What was the difference between the barbecue from hell and the fab V&A visit? Determined to learn from these two experiences (so I can avoid repeating one of them and maximise the chances of the other), I've done a bit of analysis and come up with this handy aide-memoire for spending successful family time with a teenager:
Involve them in the planning stages
Collaborate and negotiate, don't coerce
Keep it short
Factor in their physical needs (sleep, food etc)
Let them lead
It's not rocket science, I know, but it was definitely learnt the hard way…
If just getting your teenager out of their room is a feat in itself, read: How to get a teenager out of their bedroom. Or, if talking to your teen is challenging then have a look at these Top tips for communicating with teenagers.