Helping children get back on track post-lockdown
With glimmers of hope that the national lockdown in the UK is to be gradually lifted, parents and professionals are turning our thoughts to helping children get back on track post-lockdown.
It's not yet clear what all the impacts of school closures and social distancing will be. Emerging evidence and what we know from the first national lockdown in the UK in Spring 2020 suggests that:
Educational progress and attainment levels have been negatively impacted for most children, with disadvantaged children disproportionately impacted.
Rates of mental disorders affecting children's emotions, behaviour and relationships have risen from an estimated 1 in 9 before the pandemic to 1 in 6 now. Children and teenagers with existing mental health conditions have been worst hit but more children (and at younger ages) are reporting symptoms for the first time too.
Young children's independence skills have stalled, with preschoolers and infant school children not meeting expected levels in areas such as self-care (e.g. toileting, dressing themselves and using cutlery).
Children's physical fitness levels have fallen (from an already historic low), with parents reporting that older children and teenagers have struggled to maintain regular exercise during the stay-at-home orders.
Young children's lack of social play is likely to have affected their personal, social and emotional development (though there has not been sufficient research in this area as yet to quantify impacts).
It's hardly surprising that parents and professionals are worried. But it's not all doom and gloom – there are also lots of reasons to be optimistic. Extra family time has had positive impacts too. And there are very few developmental goals that children aren't able to catch up on. Studies of children who have had restricted play (e.g. due to illness or hospitalisation) show that they do bounce back long term. And research into previous extended periods of school closures (e.g. from earthquakes and natural disasters) show that children can catch up lost school time.
We are in uncharted territory, for sure, but please don't panic. And don't get disheartened by sensational click bait articles about a 'lost generation'. There are lots of things that schools and parents can do for helping children get back on track post-lockdown. Here are some ideas for parents.
Prioritise needs that matter most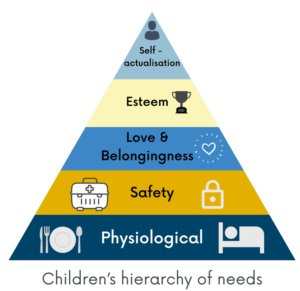 Every child will have been impacted differently. Tune into your specific child and use Maslow's hierarchy of needs to decide where they need support most. Children who are anxious and not feeling safe can't learn well (let alone catch up through accelerated programmes). So, if your child is feeling worried, work on that first. If their biggest need is to reconnect with their peers and find their feet socially, put aside lots of time for that.
Don't pile on the pressure to catch up academically. Fear appeals (e.g. "if you don't do extra work, you will fail your exams and won't ever get a job") tend to result in lower achievement not improved grades. Focus on developing a good study routine and good learning habits rather than on comparing scores.
Increase happiness factors
We often think of mental health in terms of mental ill-health. But there are lots of positive things we can all do to boost our happiness. Increasing happiness factors will be so important for helping children get back on track post-lockdown and will have benefits for the whole family too. Take a look at these ten keys to happier living from Action for Happiness and see how you could use them to create a mentally healthy family life.
Take a step-by step approach
If you have a child who is anxious about being away from you after so long at home, don't rush them. Take a step-by-step approach. If they are anxious about school, for example, invest some time in helping them feel safe with the idea of school. For example, you could walk past the school on your daily walk. Or they could wear their school uniform while playing. Work with your school or Nursery on a meet and greet strategy that will help your child back into their educational setting.
Create moments to shine
With all their usual clubs and activities cancelled, children have had very few opportunities for 'moments to shine'. Those moments when they feel proud of themselves because they have risen to a challenge or learnt a new skill. Even before children's clubs re-open, parents can help build children's self-esteem by getting them involved in helping out around the house and increasing their independence. Teach them new skills and set them challenges. Could they make a meal for the whole family? Or learn to wash their own hair?
Turn off the tech
Children have inevitably spent a huge amount of time on screens due to remote learning and social distancing. Once they are able to access social contact and learning face-to-face, it will be time to press the reset button and reintroduce some boundaries around tech time (see these guidelines on How much tech time is too much?). Children might not like that change but getting them involved in real world physical activities will be essential for improving fitness and helping children's development get back on track. A quick way to reduce tech time is to make sure your family time contains lots of screen-free activities (see these 20 Low-Tech Family Time Ideas).
Play play play!
And last, but very much not least, helping children get back on track post-lockdown will mean letting them play together as much as possible, as soon as it is allowed. Play is how children build their brains. It is how they learn about the universe and build physical skills. Children need their opportunities for play to be as wide and as varied as possible so they can interact with their environment in as many different ways as possible to get maximum learning and development. The more varied their play, the more flexible and adaptive their brains become. Play builds problem-solving skills and creativity and all softer those social skills like negotiating and influencing.
Take a look at these ideas for socially distanced games for helping children play together safely as soon as they are allowed.
If you are worried about your child's mental health, there are some resources and contact details for support organisations here.